The academic calendar of the Lagos State University of Education (LASUED) has advanced significantly. They announce the announcement of the list of applicants who have been given provisional admission to various undergraduate programmes for the academic year 2023–2024 with great anticipation.
About LASUED Admission Process
The rigorous admissions procedure at LASUED is evidence of the school's dedication to maintaining academic quality. The management is pleased to announce that enthusiastic applicants can now see the LASUED admission list online.
Guidelines to Access the LASUED Admission List:
Navigating to the LASUED Admission Portal:
Portal Initiation: Commence by visiting the LASUED admission status checking portal.
Enter Credentials: Key in your JAMB Registration Number, accompanied by your Surname as the password in the designated areas.
Admission Status: Click on the login button, and you'll promptly be presented with your LASUED admission status.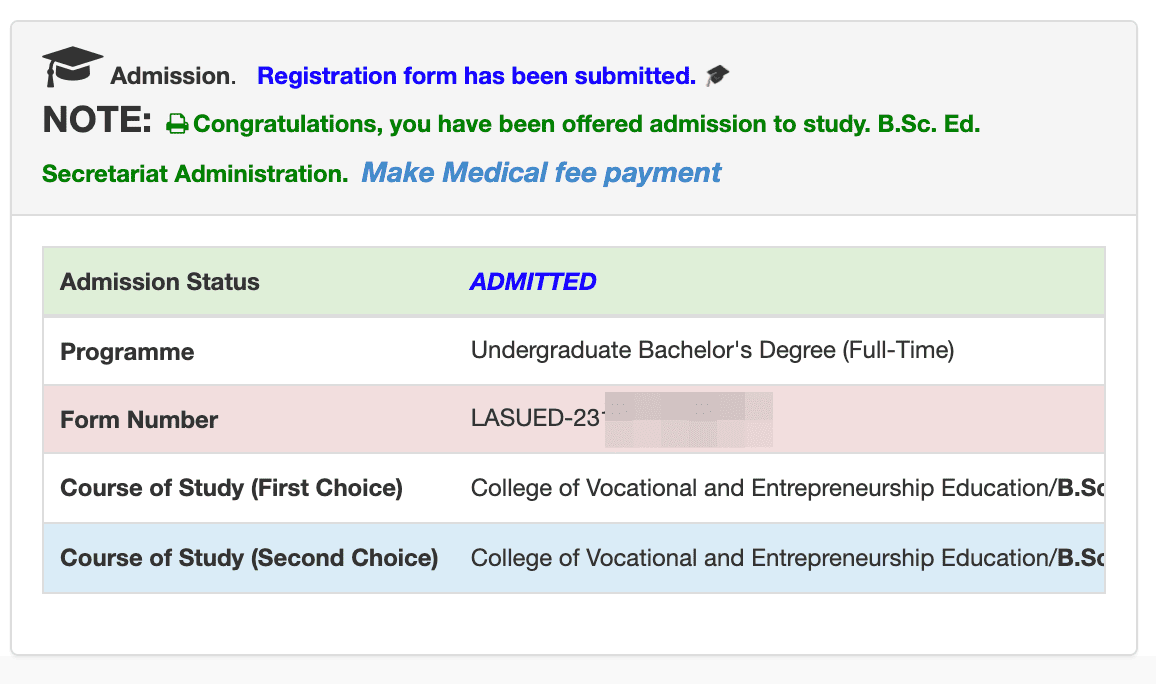 Advice for Successful Candidates:
Candidates who have been granted a seat in one of LASUED's prestigious first-degree programmes should heed the following directives:
CAPS Interaction: Successful candidates should log in to the JAMB Central Admission Processing System (CAPS) to either ACCEPT or REJECT the proffered admission.
Official Documentation: Once the admission has been accepted, candidates are recommended to print their JAMB admission letter.
Course Alterations: In situations where students are admitted to courses different from their original choice, they can request a change of course on the JAMB Portal.
LASUED Admission Acceptance Fee Details:
The Lagos State University of Education (LASUED) has activated the portal designated for newly admitted students. This portal is tailored for the payment of both acceptance and medical fees.
Newly admitted students are encouraged to promptly log in to the portal and make the necessary, non-refundable payments for Acceptance and medical fees. This payment is of the essence; the quicker the compliance, the smoother the transition into becoming a full-fledged student at LASUED.