In a bid to ease the transportation stress being encountered by students on and off the university campus, the Comrade Michael Oloyede-led Administration of the Federal University of Agriculture, Abeokuta Student Union (FUNAABSU) has procured a mini-bus to meet the transportation needs of the students while also serving as a model for the FUNAABSU Transportation Scheme (FTS).
Speaking on the rationale behind the initiative, Comrade Oloyede, popularly known as Proverbial by his fellow students disclosed that the issue of transportation on campus has been a major challenge that the students have been constantly faced with as a result of insufficient transportation means on campus and hike in transportation fare among others.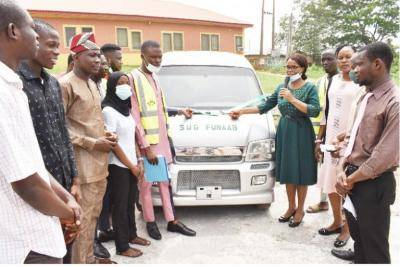 Speaking on the categories, Comrade Oloyede revealed that the buses will be available for transportation of students at a very subsidized rate, while the business aspect would involve employing drivers to make a daily target of 4,200 naira and are required to remit the money into the Union Bank Account three times a week.
He further stated that the Union has also decided to incorporate interested members into the Union's Transportation Scheme by forming a partnership with them, stressing that incorporated individuals will be required to repaint their vehicles to the Student Union chosen colour in order to fully enjoy the benefits of the Scheme.
The President however called on interested members to pick up a form at the Union's Secretariat and pay a one-time amount of 10,000 naira into the Union's account and would be required to make a weekly remittance of 1,500 naira after successful registration and validation by the Union.
Meanwhile, Prof. Mobolaji Omemu, Dean Student Affairs has commended the FUNAABSU "Team Revitalization 19/20" Administration under the leadership of Comrade Oloyede for coming up with a thoughtful initiative like the FTS.
She encouraged them to try as much as possible to enlighten those coming after them on the importance of the Scheme so that they can key into the vision, stating that this will enable them to consolidate on it and work towards making it a continuous process.