EKSU Pre-degree admission form for 2019/2020 academic session has been announced. Applications are hereby invited from suitably qualified candidates for admission into the following Pre-degree courses in the Pre-degree Programme of Ekiti State University (EKSU), Ado-Ekiti for 2019/2020 Session.
Available Subject Combinations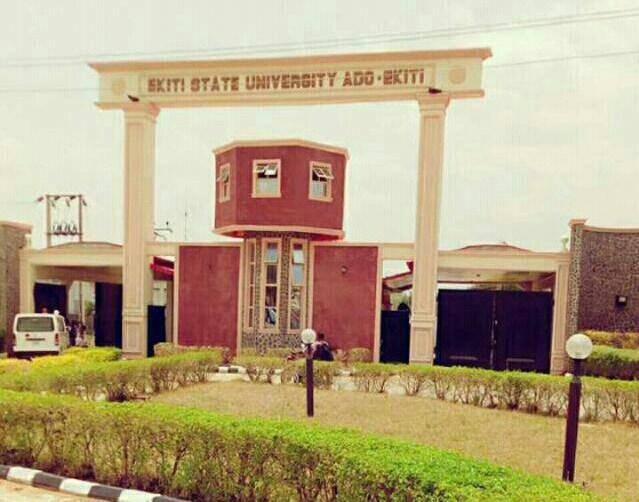 OPTIONS
SUBJECT COMBINATIONS
A
Agricultural Sciences
1. Agricultural Science /Chemistry/ Physics/ English Language.2. Biology /Chemistry/ Physics /English Language
B
Arts
1. Government/Literature in English/Religious Studies2. Economics/Government/Literature in English
C
Biological Sciences
1. Biology/Chemistry/Physics2. Agricultural Science/Chemistry/Physics
D
Education
1. Agricultural Science/ Chemistry/ Physics /English Language.2. Biology/ Chemistry/ Physics/ English Language.3. Government /Literature in English/CRS/ IRS/English Language.4. Literature in English/ CRS /IRS/ English Language.5. Government/ Literature in English/ Economic/ English Lang.6. Chemistry/Physics/Geography/English Language.7. Mathematics/ Chemistry/Physics/English Language.8. Geography/ Chemistry/ Physics/ English Language.9. Economics /Mathematics/Geography/Government/English.10. Economics/ Government /Geography/English Language.11. Economics /Government /Mathematics/ English Language.12. Mathematics /Geography /Economics/ English Language.
E
Physical Sciences
1. Chemistry/Mathematics/Physics2. Geoqraphy/Mathematics/Physics
D
Social Sciences
1. Economics/Government/Mathematics2. Mathematics/Geography/Economics3. Economics/Government/Geography
OBTAINABLE DEGREE PROGRAMMES UNDER EACH OPTION ARE AS FOLLOWS:
A. AGRICULTURAL SCIENCES
(1) Agricultural Economics & Extension Services
(2) Crop Production, Horticulture and Landscaping
(3) Forestry & Wild Life
(4) Animal Production & Health Sciences
(5) Soil & Environmental Sciences
(6) Fisheries and Agriculture Management (FAM)
B. ARTS
(1) English
(2) French
(3) History and International Studies
(4) Law
(5) Philosophy
(6) Christian Religious Studies; Arabic & Islamic Studies
(7) Theatre and Media Arts
(8) Yoruba/Linguistics
C. BIOLOGICAL SCIENCES
(1) Medicine
(2) Nursing
(3) Biochemistry
(4) Microbiology
(5) Plant Science and Biotechnology
(6) Zoology and Environmental Biology
(7) SLT Biotechnology
D. EDUCATION
(1) English Education (13) French Education
(2) History Education (14) Christian Religious Studies Education; Arabic & Islamic Studies Education
(3) Yoruba Education (15) Agricultural Education
(4) Biology Education (16) Chemistry Education
(5) Human Kinetics & Health Education (17) Computer Education
(6) Mathematics Education (18) Educational Technology
(7) Technical Education with the following Option: (19) Adult Education
(i) Building (ii) Metal Works (20) Education & Lib. Studies
(iii) Electrical /Electronic (iv) Integrated Science (21) Environmental Education
(8) Early Childhood Education (22) Economics Education
(9) Geography Education (23) Political Science Education
(10) Accounting Education (24) Business Education
(11) Educational Management (25) Guidance & Counselling
(12) Social Studies Education
E. PHYSICAL SCIENCES
(1) Chemistry
(2) Industrial Chemistry
(3) Civil Engineering
(4) Computer Science
(5) Computer Engineering
(6) Electrical & Electronics Engineering
(7) Geology
(8) Mathematics
(9) Mechanical Engineering
(10) Physics
(11) Statistics
(12) SLT with following Options:
(a) Physics/Electronics
(b) Geology
F. SOCIAL SCIENCES
(1) Accounting
(2) Banking & Finance
(3) Business Administration
(4) Entrepreneurship Studies
(5) Insurance
(6) Actuarial Science
(7) Cooperatives & Rural Development
(8) Marketing
(9) Industrial Relations and Personnel Management
(10) Criminology,
(11) Economics
(12) Environmental Management
(13) Geography & Planning Sciences
(14) Personnel Management
(15) Political Science
(16) Psychology
(17) Sociology
(18) Tourism & Hospitality Management
Admission Requirements
Applicants seeking admission into the Pre-Degree Programmes must possess a minimum of five '0' level at two sittings, including English Language; Credits Mathematics and three other Science subjects for all the Science based courses; credit in Mathematics and at least two Social Science subjects for all Social Science based courses and at least three Arts subjects for All Arts based courses. An entrance examination will be conducted to select eligible candidates for admission into the Programme.
Method Of Application
i.Candidates are to log on to the University website: www.eksu.edu.ng or portal.eksu.edu.ng.
ii. Pay the sum of eleven thousand naira (N11,000) by the usage of ATM card (Verve or Master Card)
iii. Click on Pre-degree Application,
iv. Supply basic information requested,
v. Click on interswitch logo for payment
vi. Enter the information requested for validation,
vii. Fill the Application form and submit after completion.
viii. Print a copy of the form after submission.
ix. Attach photocopies of all credentials to the duly completed form and submit at the Directorate of Pre-Degree Programmes Office (located Ifaki-Ekiti campus of the University) for issuance of Examination Permit.
IMPORTANT INFORMATION
a. All candidates seeking admission into the Pre-Degree Programmes must note that admission into the various programmes is not automatic.
b. Pre-Degree Students are required to take the Unified Tertiary Matriculation Examination (UTME) and obtain the National minimum UTME cut-off mark as may be fixed by the Joint Admissions and Matriculation Board (JAMB).
c. Only candidates who are successful in the internal Pre-degree Examinations conducted by the Directorate of Pre-degree Programme would be admitted into 100 level.
d. Only candidates with Examination Permits issued by the Directorate will be allowed to write the Qualifying Examination.
CLOSE OF SUBMISSION OF APPLICATION FORM: 15th October, 2019.
DATE OF QUALIFYING EXAMINATION: The Qualifying Examination will hold on a date to be later announced..