The meeting between the Academic Staff Union of Universities (ASUU) and the Federal Government is currently going on at the Federal Ministry of Labour and Employment, Abuja. According to the Minister of Labour and Employment, Chris Ngige, the aim of the meeting is to ensure the lecturers get back to work.
It was gathered that the National President of ASUU, Biodun Ogunyemi, led the union's delegation to the meeting. ASUU delegation arrived at the venue some minutes before 4:00 p.m., but no member of the federal government delegation was initially around.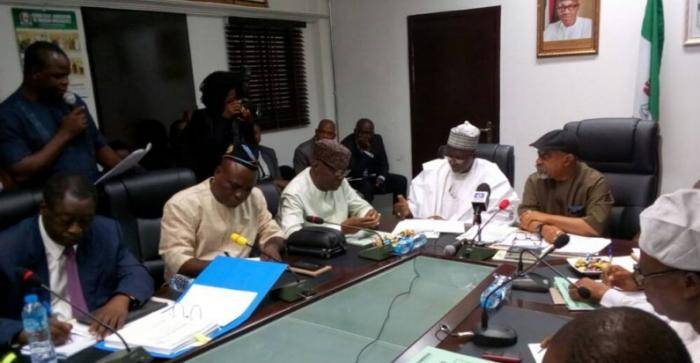 The FG delegation later arrived and the meeting was declared open by Mr Ngige at exactly 5:25 pm.
The minister of education, Adamu Adamu, was absent when the meeting comenced. However, the permanent secretary, Sunny Echono, was present to represent the minister. 
Commenting before the meeting, Mr Ogunyemi maintains the union wants the government to get it right this time around. He said it is essential for its demands to be met to ensure quality education
The meeting which lasted for four hours, could not yield a positive result as ASUU Chairman has insisted that the strike will continue. This conclusion was reached, after Federal Government showed no commitment towards the funding and revitalisation of universities.
The ASUU Chairman, Professor Ogunyemi, told newsmen that the issue of funding and revitalisation of universities was too crucial to be left out, and so the union cannot call off the strike if nothing is done to commit to that issue. He said; "The most critical of all is revitalisation," he said. "Revitalisation is central to our work as academics and unless that area is addressed, members will have issues with ongoing action."
He then added; "They gave us their response to our proposals, there were still grey areas that we are trying to sort out. So, when we finish those areas, you will know the full outcome."
On the Federal Government Part, Dr Ngige said; "We have started defraying the end allowances there, we have also released N15.4 billion for the shortfall in payment of salaries, and we have also agreed today to fund revitalisation," he explained to reporters at the end of the meeting.
Ngige continued; "We are going to expend some money there; this is irrespective of the fact that government has released from the TETfund account about N163 billion."
ASUU is expected to again, consult with members before taking the next step, and then reach the FG for another meeting, at a later date.